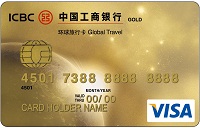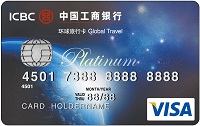 Take it when you travel abroad
Features and Benefits
• Visa brand and applicable to gold and platinum card only
• Multi currencies $,€,B within one card : Minimal Foreign Exchange Cost
The payment under the Global Travel Card can be made in THB, USD and EUR currency within one card. Minimize foreign exchange cost by just selecting USD, Euro, or THB to settle the purchase transaction when travel abroad. No foreign exchange risk fee incurred for overseas spending in USD, and EUR. The foreign currency transaction can be easily paid by THB conversion over the counter, Internet banking and/or Auto Direct Debit.
• Special privileges from participating overseas and local merchants in hotels, car rentals, shopping, dining, wellness, golf course, etc.
• ICBC Everyday Rewards
Let you collect and redeem rewards faster: 1 Baht spending gets 1 point. 1 USD
Spending gets 30 points. 1 Euro spending gets 40 points.
Delight you every day: No expiration on reward points
**For more service and promotion details, please see www.icbcthai.com or contact ICBC (Thai) Call Center 0 2629 5588.
Qualification
• The applicant's home and/or business address must be located in Thailand
• The age of primary card applicant must be between 20 and 65. Supplementary card applicant must be 15 or above and must be an immediate family as defined by the Bank.
• Stable income and good credit
How to Apply!
Visit any of our branches nationwide and submit the following documents:
Primary card applicant
• ID card for Thai residents
• Passport and Work permit for non-resident
• Evidence of income
• Other documents required by the Bank
Supplementary card applicant
• ID card for Thai residents
• Passport for non-resident
Remark
• The information in this paper is for the reference purpose. ICBC (Thai) reserves the right to amend the terms and conditions.
• Please find ICBC (Thai) regulations, interest rate and fee on our website and at our branch countrywide.
• ICBC (Thai) would like to inform that card members of ICBC (Thai) Global Travel Platinum Credit Card, ICBC (Thai) Horoscope UnionPay Platinum Credit Card, ICBC (Thai) UnionPay Platinum Credit Card and ICBC(Thai)-F.T.I. Credit Card will not be able to use the service of Dragon Pass Lounge at airports and sky train stations from 1 Jan 2022 onwards.