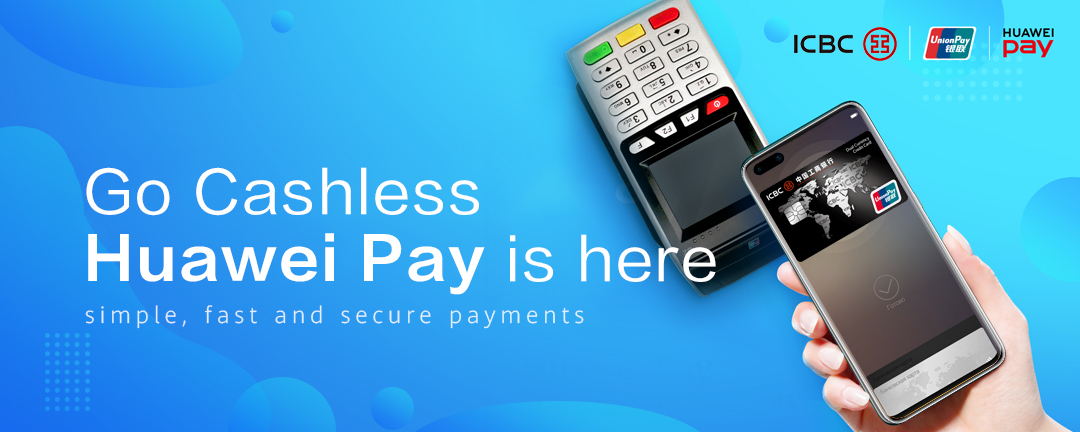 ICBC (Thai) officially launches Huawei Pay in Thailand
Details:
• ICBC (Thai) is the first bank in exclusive partnership with Huawei Pay
• Download HUAWEI Wallet from AppGallery to get started
• ICBC (Thai) UnionPay Credit Card holders can enjoy many benefits (coming soon)

UnionPay Credit Cards issued by ICBC (Thai) are eligible for use on Huawei Pay. Huawei Pay is a mobile payment service launched by Huawei, in cooperation with ICBC and UnionPay in Thailand. Huawei Pay allows you to pay with phones capable of Near Field Communication (NFC), instead of using your physical ICBC cards. You can make secure and convenient payments, simply by tapping your NFC-capable phone against a contactless payment terminal or card reader. To use Huawei Pay, download Huawei Wallet Application from AppGallery and install.

Please click here for FAQs



★ How to set up


Before using Huawei Pay, ensure that you have updated your phone and Wallet to the latest version.

1. Open Wallet and log in to your HUAWEI ID. If you do not yet have a HUAWEI ID, follow the onscreen instructions to register one. Please note that the service area of your HUAWEI ID indicated must be the same as the country/region where you use Huawei Pay. To check or change the HUAWEI ID service area, open AppGallery and select to Me > Settings > Country/Region – Thailand. If you have previously added other cards to Huawei Pay in other country/regions, you may not be able to add cards in the current country/region. If this occurs, please contact Huawei for further assistance.
2. Touch the plus sign (+) to add a ICBC card.
3. Read and accept Digital Wallet Terms and Conditions.
4. Scan your ICBC card or enter your card number manually. Then fill in all the required fields, such as expiration date and security code.
5. Enter verification code provided by ICBC via text message. If you are unable to finish verification, please contact ICBC. After the verification is finished, your ICBC card is successfully added.
6. If this is the first time a ICBC card is added, you need to complete some security settings. Follow the onscreen instructions to set a security phone number, Payment PIN, and security question.
7. Touch Payment authentication method. For security and convenience, it is recommended that you use fingerprint or facial recognition as the payment authentication method, with which you don't need an Internet connection to make an in-store payment by tapping your phone.
8. Set the fingerprint for HUAWEI Wallet quick pay, by going to Wallet > Settings > General > Fingerprint. While your phone screen is turned off or locked, you can directly access the Wallet payment screen by verifying the fingerprint for HUAWEI Wallet quick pay.

Note that verifying this fingerprint will not unlock your phone. You need to use a different fingerprint for unlocking your phone.

1. Where can I use Huawei Pay?
Huawei Pay works where you see one of these symbols. Currently, Central Department Store, Siam Paragon, Emporium, EmQuartier, The Mall Department Stores, Bluport, Skyport, Gourmet Market, Home Fresh Mart, King Power, Boots and Toy R Us can accept Huawei Pay. More available merchants will come soon.


2. How does Huawei Pay work?
Huawei Pay can be used for:
• In-store payments by tapping your phone where UnionPay contactless payments are accepted;
• In-app purchases by selecting Huawei Pay as the payment method at checkout and complete payment using fingerprint, facial recognition or payment PIN. (To be launched)

3. How to make an in-store payment with Huawei Pay?
First, make sure NFC is enabled on your phone, by going to Settings > Device connectivity > NFC. Alternatively, swipe down from the top of the screen to display the notification panel. Touch to display all switch shortcuts and verify that NFC is enabled.
• When the screen is locked, use your fingerprint for HUAWEI Wallet quick pay to access the payment screen, with no network connection required.
• Authenticate the payment with your fingerprint, face, or Payment PIN (To be launched).
• If you do not want to use the default ICBC card for the payment, touch it, and then select another card.
• Tap the NFC zone (near the rear cameras) at the back of your phone against the payment terminal or card reader.



• Enter your ICBC card PIN or sign on the printed ticket if you are asked to.

The network connection is not required only when you authenticate the payment with your fingerprint or face.

Password-free transactions are only possible when allowed by both your ICBC card and the payment terminal or card reader and when the transaction amount is within the transaction limit.

★ Transaction Limit
• Limit per transaction is 50,000 Baht
• Limit per day is 100,000 Baht
(2022-04-18)